WHAT WE DO
PRODUCTS / SERVICES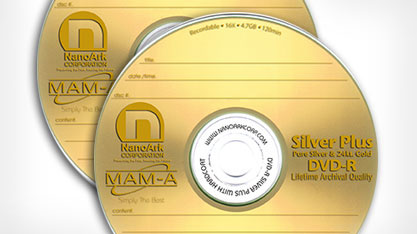 Archival Quality Optical Media
About our Silver Plus DVD-R discs
Features two reflective layers, pure silver and 24 kt. gold. The pure silver layer provides high reflectivity and great drive compatibility, while the gold layer provides protection against environmental corrosion. This combination extends longevity to 83 years compared to standard silver discs that oxidize.
Diamond Guard: We apply a special protective coating called Diamond Guard to the recording side of the disc, to protect against scratches, fingerprints, and everyday handling. The Diamond Guard is the hardest scratch resistant material in the industry, with a hardness rating of 5H.
Printable Surfaces and Custom Designs: Silver Plus DVD‐Rs come in a wide variety of printable surfaces for a professional look. Available with inkjet and thermal surfaces, Rimage Everest, and our multi‐printer compatible FlexPrint surface.
They offer significant cost savings over Gold Discs.
Advantages:
Less electronic waste (HDD's need replacement every 5 years. Tape drives need regular cleaning and replacing after 200 full rewind cycles).
Less power consumption (HDD's need power 24/7, 365/year).
Blu-ray media reliability is over 50 years/100 years with unlimited read cycles.
No air conditioning requirement for Blu-ray.
Environment friendly; qualifies for green archiving.
Offers 25/50/100/128 GB capabilities.
Industries/sectors it benefits:
Local government
Schools
Fire districts
Small businesses
Insurance
Law enforcement
Large manufacturing and compliance